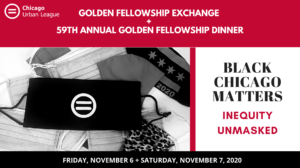 TRADITION + INNOVATION
The Chicago Urban League's Golden Fellowship Dinner (GFD) is a 59-year tradition that celebrates our progress on the road to economic and racial equity for Black Chicagoans. This year, we're adding to the tradition to make it a Golden Fellowship weekend themed Black Chicago Matters: Inequity Unmasked, in tribute to this year's growing movement for racial justice.
On Friday, November 6, we'll host our inaugural Golden Fellowship Exchange, a pre-gala virtual event where leaders from different generations will exchange insights and ideas in a series of interactive conversations. On Saturday, November 7, we'll hold our 59th Annual Golden Fellowship Dinner with a twist that allows supporters to join us from home while supporting local Black-owned caterers. It will be a weekend to remember!
Golden Fellowship Exchange
Friday, November 6, 2020
11:30 a.m. – 2:00 p.m. (Virtual Event via Zoom; Admission is Free, but registration is required)
The inaugural Golden Fellowship Exchange (GFE) will explore our theme, Black Chicago Matters: Inequity Unmasked, through three intergenerational conversations focused on dismantling structural racism.
Panel Discussion Topics:
Entrepreneur Exchange: Moving Black-owned Businesses Beyond Surviving to Thriving
Advocacy Exchange: Driving Change from the Streets to the Polls
Leadership Exchange: Increasing Diversity in C-Suites and Boardrooms
11:45 a.m. – 12:25 p.m.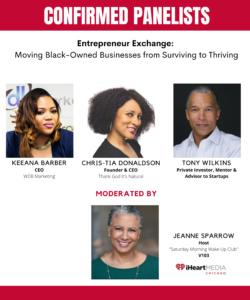 12:30 p.m. – 1:10 p.m.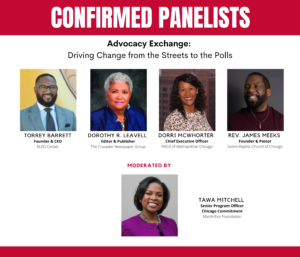 1:15 p.m. – 1:55 p.m.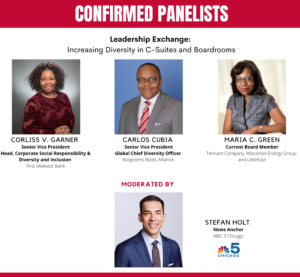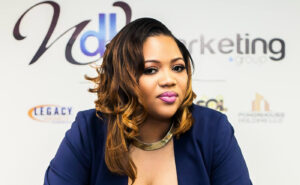 Keeana Barber
CEO, WDB Marketing
Keeana Barber is the current CEO of WDB Marketing, a design and printing agency.  She began her career in promotions and graphic design but soon transitioned WDB to become a full-service marketing agency and printing manufacturer.  To date, her company services 800 to 1,000 businesses per year, focusing on supporting small businesses with their brand identity, marketing strategies and creation of the marketing collateral. In an effort to expand their product offering and turnaround times, WDB became a full-service, in-house print production company in 2016– truly becoming a one-stop shop for design, marketing and printing.
Keeana is also the founder of the WDB L.E.G.A.C.Y. Awards, an annual gala that celebrates the impact of Black entrepreneurs.  In addition to her business endeavors, Keeana is passionate about giving back to the community.  She is the editor of a community-based publication, What's Da Bizniz newspaper and sits on the board of Chamber 57,  Neighborscapes and the Africa Global Chamber of Commerce.  Keeana recently added author to her title, penning a semi-autobiographical book 'Destined for Business' that chronicles her 15-year journey in entrepreneurship.  Her goal is to leave a legacy of helping entrepreneurs create sustainable businesses that will go on to impact and improve their surrounding communities.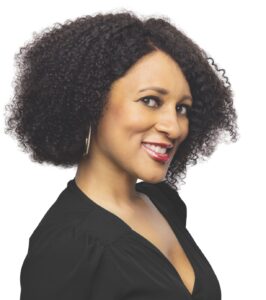 Chris-Tia Donaldson
CEO and Founder, Thank God It's Natural (TGIN) and the TGIN Foundation
In 2015, Harvard Graduate and CEO of Thank You God It's Natural, Chris-Tia Donaldson was diagnosed with breast cancer. During her treatment, she learned that having money could make the difference between living and dying when it came to treating this condition. In her observation, very few organizations existed that provided support and social services to help women with transportation, child care, or seeking disability leave from their place of employment.
Today, she uses her success in the beauty space to advocate for women experiencing financial difficulties, who are undergoing treatment, to highlight health disparities due to race and socioeconomic factors, and to empower women to listen to their bodies. Thank God It's Natural (TGIN) products can be found in over 10,000 stores including Ulta, Target, Sally's Beauty, Walmart, CVS, Walgreens and Whole Foods.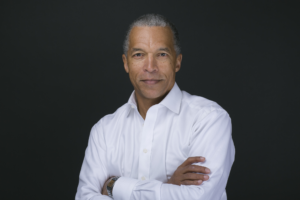 Anthony E. Wilkins, CFA
Private Investor
Tony Wilkins is a private investor focused on supporting portfolio C-suite teams and related interests by providing a broad perspective from experience in a variety of industries to help them make better decisions, particularly when navigating new or unfamiliar terrain. Nationally active in the early stage innovation ecosystem, Tony also mentors, advises and invests in Seed and Series A rounds of startup companies including SpotHero, Cameo and PageVault. In 2001, he funded ASAP Advisor Services, a database population firm for asset managers, which was sold to eVestment in 2011. In 2010, he was a founding board member of Brilliant, ceding his seat to their West Coast Series B investor in 2012.
He spent six years as a relationship executive at BNY Mellon responsible for corporate, government and non-profit custody clients. Prior to joining BNY Mellon, Tony spent 15 years at Northern Trust, serving as Senior Vice President and Head of Consultant Relations and subsequently, Head of Defined Contribution Sales and Service for Northern Trust Global Investments. Tony is a 1979 graduate of Northwestern University. He received his Masters in Business Administration from the Booth School of the University of Chicago in 1986 and is a CFA Charterholder. He and his wife, Dorothy Tucker, have three children and live in Chicago.

Jeanne Sparrow
Host, Saturday Morning Wake Up Club, V103
Jeanne Sparrow loves good people, good music, good food and a good story… and she's spent over three decades in Chicago media weaving all those things together and more as an Emmy-winning television host and reporter and award-winning radio personality. She's appeared on several area stations including WGCI, NBC5,WGN and WCIU.
Jeanne has interviewed hundreds of the biggest names in entertainment and worked closely with comedians Steve Harvey and George Wallace. Jeanne is happy and proud to be back on-air as host of the top-rated legendary "Saturday Morning Wake Up Club" on V103, an iHeartRadio station. Jeanne also enjoys her work as a speaker, consultant and faculty at Northwestern University's School of Communication.
Stefan Holt
Award-winning journalist Stefan Holt returns to his hometown to anchor the NBC 5 News every weeknight at 4 p.m. and 10 p.m.
He anchors with Marion Brooks, and Allison Rosati.
Holt rejoins the NBC 5 news team after spending more than four years working for WNBC-TV in New York. Prior to that, he was in Chicago for nearly five years, where he anchored the NBC 5 News Today with Zoraida Sambolin.
Holt was born in Chicago and spent his childhood growing up in Lincoln Park.
Stefan is the recipient of several Chicago and New York Emmy Awards, and was recognized with a national Edward R. Murrow Award as part of team coverage during the deadly 2019 police standoff in Jersey City, New Jersey.
He was one of the first U.S. journalists to report live from Havana following the death of former Cuban President Fidel Castro. He also co-anchored news coverage from the 2017 Presidential Inauguration in Washington, D.C.
Stefan's career in local news began in West Palm Beach, Florida, where he served as a weekend anchor and reporter for WPBF-TV.
An avid aviation enthusiast, he is an instrument-rated pilot and frequently reports on the airline industry and transportation safety.
Stefan graduated cum laude with a Bachelor of Arts degree in broadcast telecommunications and a B.A. in political science from Pepperdine University in Malibu, California.
That is where he met his wife, Morgan, while both were attending the university.
The couple is thrilled to be back in Chicagoland with their two sons.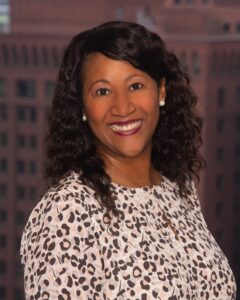 Dorri C. McWhorter, CPA
Chief Executive Officer, YWCA Metropolitan Chicago
Dorri McWhorter became the CEO of the YWCA Metropolitan Chicago in March 2013. She has embarked upon a journey to transform the 140 year old social service agency to a 21st century social enterprise. Dorri leverages her large-scale change experience from working 20+ years in management consulting to the work that the YWCA does to create social change. She led the process for the YWCA to develop an exchange traded fund (ETF) for women's empowerment (NYSE: WOMN) in partnership with Impact Shares, which is the first non-profit investment advisor to develop an ETF product. 
Dorri prides herself on being a socially-conscious business leader and is committed to creating an inclusive marketplace by leveraging a multi-sector approach across business, civic and community organizations. She is also dedicated to empowering women as a member of the Women in Entrepreneurship Institute at DePaul University and Women's Philanthropy Institute at Indiana University. Dorri's civic and philanthropic leadership includes the board of directors for the Chicago Center for Arts and Technology, 1871 (Technology Business Accelerator), Civic Consulting Alliance, and the Civic Federation. She is also a member of the Illinois Charitable Trust Board. 

Maria Green
Retired SVP and General Counsel, Ingersoll Rand
Maria Green retired as senior vice president and general counsel of Ingersoll Rand plc (IR) on June 28, 2109. She joined IR in November 2015, and was responsible for all legal and compliance activities worldwide. She joined Ingersoll Rand from Illinois Tool Works (ITW), where she was senior vice president, general counsel and secretary.
During her 18 years with ITW, Maria guided the company's expansion through both acquisitions and organic growth. As GC, she led the Environmental, Health and Safety Group as well as Government Affairs and Risk Management. At Ingersoll Rand, Maria was a member of the Executive Leadership Team and a trusted advisor to the CEO on legal, compliance and strategy issues and led a team of 75 lawyers based in the U.S., Europe, Asia Pacific and Latin America. She co-chaired the Global Business Integrity Council and served as executive sponsor for an employee resource group.
Maria joined the board of Tennant Company (NYSE: TNC) as an independent director in March 2019 (Governance Committee) and was elected to the board of Wisconsin Energy Group (NYSE: WEC) in July 2019 (Audit and Governance Committees). Most recently, Maria joined the board of directors of Littelfuse (a global manufacturer of leading technologies in circuit protection, power control & sensing) in February 2020 (Audit Committee). Maria holds a BA from the University of Pennsylvania and JD from Boston University Law School.

Corliss V. Garner
Senior Vice President and Head of Corporate Social Responsibility, Diversity, Equity and Inclusion, First Midwest Bank
Corliss V. Garner is responsible for designing and executing strategies in diversity, inclusion and corporate citizenship that drive the business and growth agenda for First Midwest Bank.   She also serves on the board of the First Midwest Bank Foundation.  Prior to joining First Midwest Bank, Corliss held leadership positions at BMO Financial Group in several areas including operations, wealth management, commercial lending, philanthropy and diversity and inclusion. 
Corliss is a graduate of DePaul University, has completed several leadership programs, including the Chicago Urban League/University of Chicago Booth School of Business IMPACT program, and is a 2020 Leadership Greater Chicago fellow. She has earned the Certified Trust and Financial Advisor (CTFATM) and the Certified Financial Planner (CFPTM) designations, and has received the Chicago Defender Woman of Excellence Award and Black Women's Expo Phenomenal Woman Award.  
As a lifelong Chicagoan, Corliss is very passionate about giving back to the community. She has served as a contributing columnist to the Chicago Defender, is a former Trustee of the Chicago State University Board of Trustees and is a Life Trustee of the advisory board of The African American Legacy at The Chicago Community Trust.  Corliss has also held board positions with the DePaul Coleman Entrepreneurship Center and the Executive Service Corps of Chicago.  In 2013, in honor of her late mother Corliss created the Murry L. Garner Scholarship Fund supporting college aspirations for African American girls from the west side of Chicago.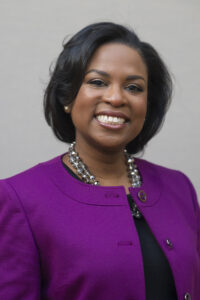 Tawa Mitchell
Senior Program Officer, Chicago Commitment, MacArthur Foundation
Tawa has responsibility for grantmaking in the Chicago Commitment program, a portfolio aimed at achieving a city that is connected and integrated, where prosperity is shared, opportunity is equitable, and civic and cultural assets are available to everyone.
Prior to joining MacArthur, Tawa served as the Director of Education Policy and Partnerships in the Office of Mayor Rahm Emanuel. In this role, Tawa focused on supporting educational opportunities across the K-16 spectrum. Tawa also served as the inaugural Interim Director for Thrive Chicago, a multi-sector collective that aims to align efforts with improved outcomes for all Chicagoans, from cradle-to-career.  Previously, Tawa served as Executive Director of Strategic Partnerships at the City Colleges of Chicago. Prior to that, Tawa also served as Assistant to Mayor Richard M. Daley for Education and worked at the Chicago Public Schools as Senior Manager of the Community Schools Initiative.
Tawa holds an MA from the University of Chicago's School of Social Service Administration, a BA from Spelman College and she is a Class of 2018 Leadership Greater Chicago Fellow, the region's premier civic leadership development program.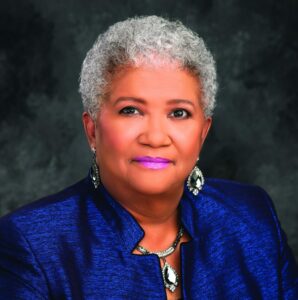 Dorothy Leavell
Editor & Publisher, Crusader Newspaper Group
Golden Fellowship Dinner
Saturday, November 7, 2020
6:00 p.m. – 10:00 p.m. (A detailed agenda will be added closer to the event date.)
The Golden Fellowship Dinner (GFD) is the Chicago Urban League's biggest fundraiser of the year and one of the most anticipated galas in Chicago. It raises critically needed dollars that allow the Chicago Urban League to continue its service to thousands of Chicagoans annually, helping them find jobs, secure housing, expand their educational experiences and grow their businesses.
In normal times, our gala draws nearly 1,500 Chicago-area business, civic and elected leaders to a grand ballroom for an evening of entertainment and fellowship. Of course, 2020 calls for a different approach. To help prevent the spread of COVID-19, this year's GFD will be completely virtual. But we're still planning an exciting evening!
If you can't join us in person, you can join the fun virtually.
Host a virtual dinner party at your home and support local Black-owned caterers (We will deliver dinner to you!)
Help celebrate our honorees
Enjoy performances by three artists with Chicago roots: Grammy Award-winning rapper Common, Grammy Award-winner R&B group The Emotions, and Stellar Award-winning gospel musician Jonathan McReynolds
Participate in our Silent Auction; register and view items at: https://fellowship.givesmart.com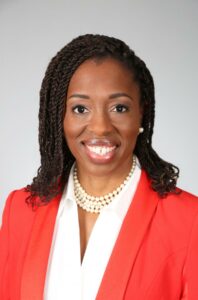 Dr. Ngozi Ezike
Director, Illinois Department of Public Health
2020 Recipient of the Lester H. McKeever Jr. Award for Individual Service
Dr. Ngozi Ezike is a board certified internist and pediatrician who joined the Illinois Department of Public Health from Cook County Health where she had served for more than 15 years promoting the organization's mission of delivering integrated health services with dignity and respect regardless of a patient's ability to pay.
She has delivered inpatient care at Stroger Hospital as well as primary and preventive care in community and school-based clinics. As Medical Director for the Austin Health Center, located on the West-side of Chicago, she engaged with the community through health initiatives involving obesity, diabetes, and breastfeeding.
In her last role with Cook County Health, she served as Medical Director at the Cook County Juvenile Detention Center, the largest single site juvenile detention facility in the country. She was instrumental in creating and implementing the facility's health policies as the first step of many for coming out of federal receivership and achieving national accreditation for the detention center. As part of Healthy JTDC 2020, she partnered with profit and non-profit organizations to sponsor the center's first running program which culminated in a 3K/5K run event for the detained youth. Dr. Ezike is a national policy advisor on juvenile correctional health topics and has presented at numerous local and national conferences for medical professionals and youth audiences alike.
Dr. Ezike graduated with honors from Harvard University with a concentration in chemistry. Her medical degree is from University of California at San Diego. She completed her internship and residency at Rush Medical Center where she is an Assistant Professor of Pediatrics. She also earned a management certificate from Harvard Business School.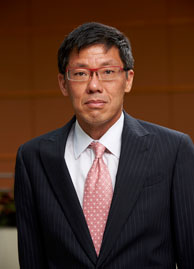 George Wu
John P. and Lillian A. Gould Professor of Behavioral Science, University of Chicago Booth School of Business
2020 Recipient of the Chicago Urban League Humanitarian Award
George Wu studies the psychology of decision making; goal-setting and motivation; and cognitive biases in bargaining and negotiation. Wu's research has been published widely in a number of journals in economics, management science, and psychology, including Cognitive Psychology, the Journal of Personality and Social Psychology, the Journal of Risk and Uncertainty, Management Science, Psychological Science, and the Quarterly Journal of Economics. Prof. Wu was also the inaugural faculty director of the Harry L. Davis Center for Leadership. He was an early champion of the Chicago Urban League's IMPACT Leadership Development Program, for which the University of Chicago Booth School of Business is the academic partner. He continues to teach in and support the program.
Prior to joining the Chicago Booth faculty in 1997, Wu was on the faculty of Harvard Business School as an assistant and associate professor in the managerial economics area and then in the negotiation and decision making group. He also has worked as a lecturer at Wharton School at the University of Pennsylvania. Prior to graduate school, Wu worked as a decision analyst at Procter  and Gamble.
Wu is a a former department editor of Management Science and is on numerous other editorial boards, including Decision Analysis, Journal of Behavioral Decision Making, Journal of Risk and Uncertainty, and Theory and Decision. He earned a bachelor's degree cum laude in applied mathematics with a concentration in decision and control in 1985, a master's degree in applied mathematics in 1987, and a PhD in decision sciences in 1991, all from Harvard.