The goal of Project Ready High School is to assist 9th and 10th grade students in acclimating through high school by equipping them with age appropriate life skills designed around High School Success, College Readiness, Academic Achievement, Cultural Awareness & Advocacy, Social Development, and Workforce Readiness.
Within each learning area, lessons, activities, assessments and specific learning objectives are provided to guide the sessions.  Students will gain a greater understanding of the skills and strategies needed to succeed in high school and excel in their journey to post-secondary planning. 
For more information on Project Ready High School, contact Stephen Hale, Senior Program Manager, at sthale@chiul.org.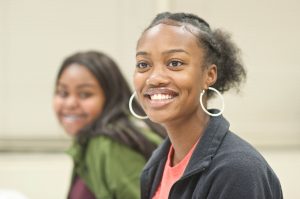 Project Ready High School accomplishes this through:
College Development Plan
National Urban League Youth Leadership Summit & Case Competition
Community Service
Spring Break & Local College Tours
Divine 9 Greek Night
Resume Writing and Mock Interviews
Student Leadership Development Opportunities