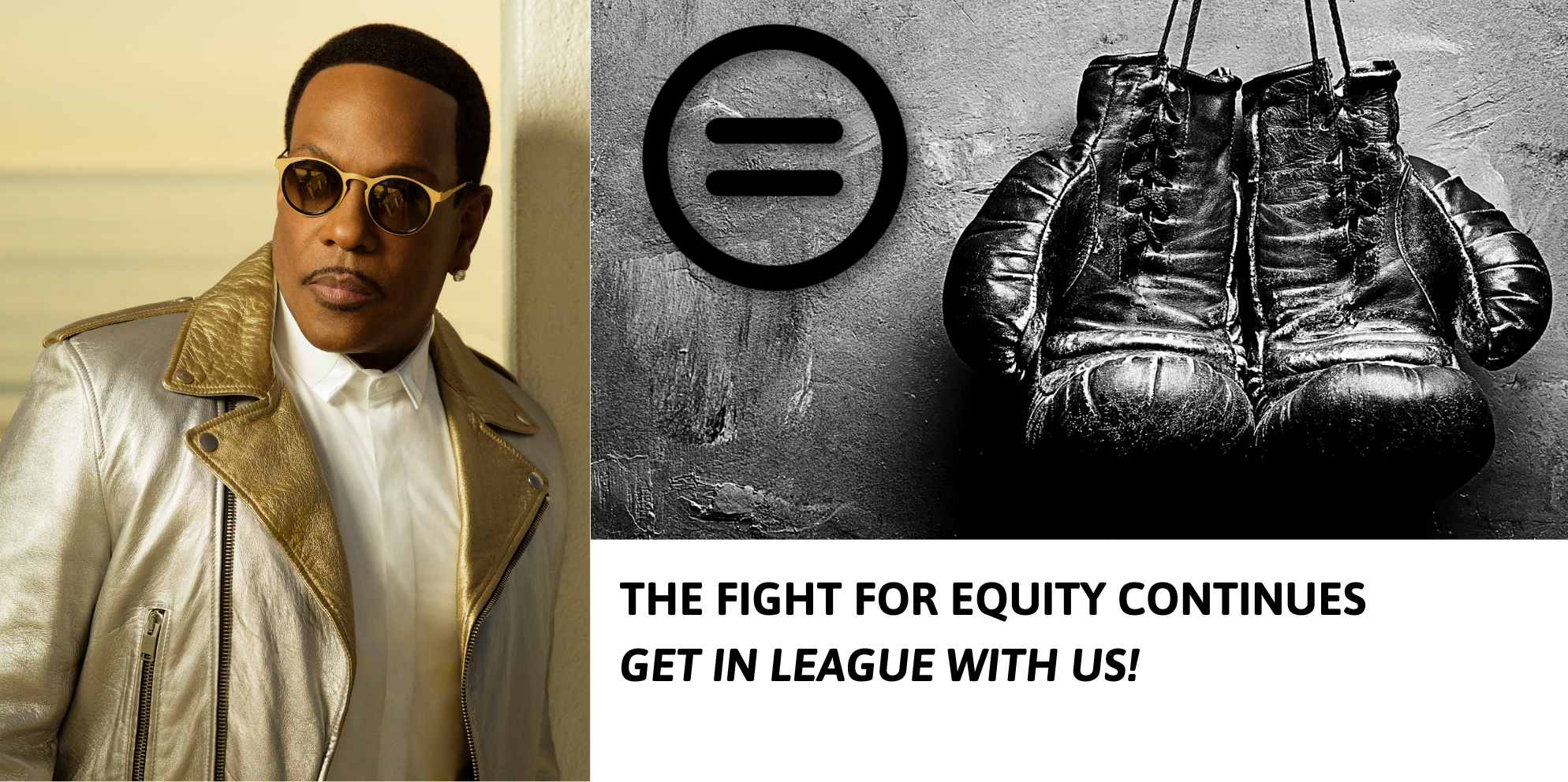 GALA TICKETS ARE SOLD OUT!!
But you can still join us for the After Party!
Purchase tickets below.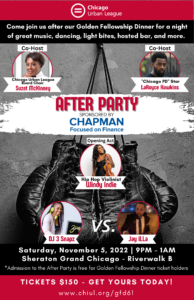 THE FIGHT FOR EQUITY CONTINUES
On November 5, the Chicago Urban League will hold its 61st Annual Golden Fellowship Dinner. Themed The Fight For Equity Continues: Get In League With Us, our gala for this year recognizes that, while progress has been made, the fight for equity is ongoing and the Chicago Urban League has been in the ring for more than a century.
In 2021, our first in-person gala since the start of the pandemic, more than 1,100 of Chicago's business, civic and community leaders celebrated with us in person. This year, we're making plans to accommodate 1,500+ while observing health safety guidelines.
Support GFD61 and "Get in League with Us!"
Golden Fellowship Dinner
Saturday, November 5, 2022
— 6 p.m.–
Champagne Reception
— 7 p.m.–
Dinner
With Award Presentations to
Dr. Walter Massey, PhD
President Emeritus, School of the Art Institute of Chicago
Humanitarian Award Recipient
&
Dr. Helene Gayle, MD, MPH
President, Spelman College
Lester H. McKeever Jr. Individual Service Award Recipient
&
Nikole Hannah-Jones
Pulitzer Prize-winning Journalist
Edwin "Bill" C. Berry Civil Rights Award Recipient
Dinner will conclude with a performance by
Charlie Wilson
Grammy Award-Nominated Music Artist
— 10 p.m. – 1 a.m.–
After Party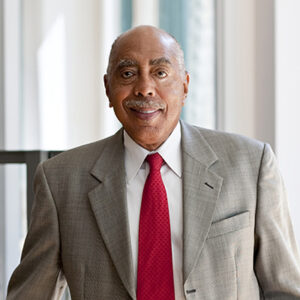 Dr. Walter Massey PhD, President Emeritus, School of the Art Institute of Chicago
Walter Eugene Massey  is an American educator, physicist, and executive. President emeritus of the School of the Art Institute of Chicago (SAIC) and of Morehouse College, he is chairman of the board overseeing construction of the Giant Magellan Telescope, and serves as trustee chair of the City Colleges of Chicago. During his career, Massey has served as head of the National Science Foundation, director of Argonne National Laboratory, and chairman of Bank of America. He has also served in professorial and administrative posts at the University of California, University of Chicago, Brown University, and the University of Illinois.
Massey is the only individual to serve as both President and Chairman of the American Association for the Advancement of Science (AAAS) and as Chair of the Association of Independent Colleges of Art and Design (AICAD). Additionally, Massey is the only individual to have received both the Enrico Fermi Award for Science and Technology from the Chicago Historical Society and the Public Humanities Award from Illinois Humanities.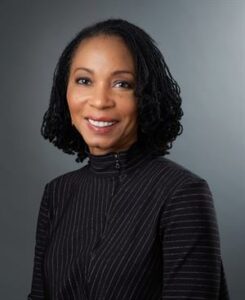 Dr. Helene D. Gayle, MD, MPH, President of Spelman College
Helene Gayle is president of Spelman College, one of the nation's oldest Historically Black Colleges. Formerly, she served as president and CEO of The Chicago Community Trust. She has served in this role since October 2017. Under her leadership, the Trust has adopted a new strategic focus on closing the racial and ethnic wealth gap in the Chicago region.
For almost a decade, Dr. Gayle was president and CEO of CARE, a leading international humanitarian organization. An expert on global development, humanitarian, and health issues, she spent 20 years with the Centers for Disease Control, working primarily on HIV/AIDS. She worked at the Bill & Melinda Gates Foundation, directing programs on HIV/AIDS and other global health issues.
Dr. Gayle serves on public company and nonprofit boards, including The Coca-Cola Company, Organon, Palo Alto Networks, Brookings Institution, Center for Strategic and International Studies, New America, ONE Campaign, Federal Reserve Bank of Chicago, and Economic Club of Chicago. She is a member of the American Academy of Arts and Sciences, Council on Foreign Relations, Alpha Omega Alpha Medical Honor Society, National Academy of Medicine, American Public Health Association, National Medical Association, and American Academy of Pediatrics.
She was awarded the Chicago Mayor's Medal of Honor for her work on COVID relief and recovery for the city. Named one of Forbes' "100 Most Powerful Women" and one of NonProfit Times "Power and Influence Top 50," she has authored numerous articles on global and domestic public health issues, poverty alleviation, gender equality, and social justice.
Dr. Gayle was born and raised in Buffalo, NY. She earned a BA in psychology at Barnard College, an MD at the University of Pennsylvania and an MPH at Johns Hopkins University. She has received 18 honorary degrees and holds faculty appointments at the University of Washington and Emory University.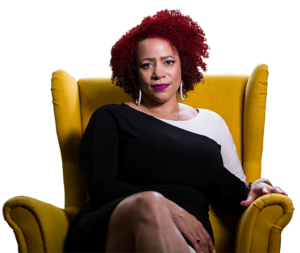 Nikole Hannah-Jones, Pulitzer Prize-winning Journalist
Nikole Sheri Hannah-Jones is an American investigative journalist, known for her coverage of civil rights in the United States. In April 2015, she became a staff writer for The New York Times. In 2017 she was awarded a MacArthur Fellowship and in 2020 she won the Pulitzer Prize for Commentary for her work on the 1619 Project. Hannah-Jones is the inaugural Knight Chair in Race and Journalism at the Howard University School of Communications, where she also founded the Center for Journalism and Democracy.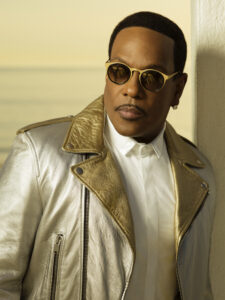 Charlie Wilson, Award-Winning Music Artist
Charlie Wilson, also known as Uncle Charlie, is an American singer, musician, songwriter, and the former lead vocalist of The Gap Band. As a solo artist, Wilson has been nominated for 13 Grammy awards and 11 NAACP Image Awards (including two wins), received a 2009 Soul Train Icon Award, and was a recipient of a BMI Icon Award in 2005. In 2009 and 2020, he was named Billboard magazine's No. 1 Adult R&B Artist, and his song "There Goes My Baby" was named the No. 1 Urban Adult Song for 2009 in Billboard Magazine.