Whether it's COVID-19 or the flu shot, we know that many members of our community have questions about the safety and effectiveness of vaccines. That's why we've created a campaign to help answer some of those questions and to give voice to community members who want to share their experiences.
Our Don't Miss Your Shot! campaign will include resources, testimonies, and live events to keep our community informed.  Scroll down for resources.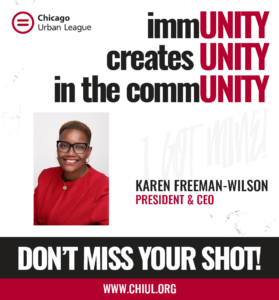 ---
Featured Webinars & Panel Discussions
The Chicago Urban League hosts:
Let's Talk About It, Tuesday, September 28, 2021
The Chicago Urban League held a virtual conversation about the latest on COVID-19, including concerns about new variants and vaccine effectiveness.
The Chicago Urban League hosts:
More Than a Meme: A Teen Talk About Vaccines, Tuesday, June 29, 2021
Polished Pebbles CEO Kelly Fair moderates a conversation with youth ages 12 – 22, discussing vaccines–from Covid-19 to flu shots. The youth talk about the considerations and concerns that they are discussing with their parents and friends, and they share their own experiences during the Covid-19 pandemic.
Western Cook County Chapter of Jack and Jill of America, Inc. and the Chicago Urban League co-present:
A COVID Conversation for Black Families, March 14, 2021
Have questions about vaccine safety? Covid-19 in children and teens? The mental impact of the pandemic on youth and adults? Vaccine equity and access for seniors? Check out this candid conversation with Black health experts.
WBEZ Chicago hosts:
Q&A: African Americans and the COVID-19 Vaccine, March 3, 2021
WBEZ reporter Natalie Moore, leading public health experts and residents who have taken the vaccine  answer vaccine questions from online attendees.
IMPACT Alumni Association Hosts:
The COVID-19 Vaccine & The Black Community: An Honest Conversation About History and Health, January 12, 2021
This panel discussion features five prominent Black leaders in the field of public health, communicable disease, and behavioral health, including several IMPACT Leadership Development Program alumni. The webinar is intended to assist Black community members with developing a science-informed perspective on the COVID-19 coronavirus vaccine. Panelists address the history of vaccines in the Black community, common myths about the coronavirus vaccine, and the pros and cons of taking the vaccine.
---
The Don't Miss Your Shot!  campaign is supported by the following partners: