05.03.2016
Chicago Urban League's Annual SUMMIT Luncheon Delivers Message of Hope for Youth, Features Chicago's Young Innovators
FOR IMMEDIATE RELEASE
May 3, 2016
CONTACT: 
Chelsea Whittington, External Affairs Manager
(773) 451-3524
cwhittington@thechicagourbanleague.org
Chicago Urban League's Annual SUMMIT Luncheon
Delivers Message of Hope for Youth, Features Chicago's Young Innovators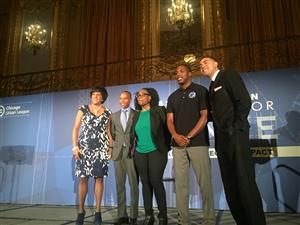 Chicago Urban League President and CEO Shari Runner poses with
2016 Innovators (l-r) Jerald Gary, Jessica Disu, Jahmal Cole and Todd Belcore.

(Chicago, IL) – A resounding message of hope and advocacy for Chicago's youth charged up the audience of more than 600 who attended the Chicago Urban League's annual SUMMIT Luncheon May 2nd. Business leaders, community stakeholders and policy makers gathered at the Hilton Chicago where CUL President and CEO Shari Runner challenged them to stand up for those who often have no voice.
"You've read the statistics in the headlines; they are alarming—and heartbreaking. But our youth are more than just numbers—they are our next generation and hope for the future, and each of them who continue to bear the consequences of continued societal failures shed real tears … and real blood … and manifest compelling disappointments that we can no longer afford to ignore," said Runner. "Each of their stories becomes our collective history and a mark—or stain— on our future as a community."
Featured keynote speaker Tom Wilson, Chairman and CEO of The Allstate Corporation, was introduced by Jasper Robinson, a participant and mentee in CUL's Urban Youth Connection program.
"Without the Urban League, I really think I would be dead, or in jail," said Robinson. "But the Urban League sees me as something more than just a statistic. They see me as our future. And now, I see myself as someone with a future."
Robinson's mentorship at the Urban League would not have been possible without the support of Get In Chicago, a funding partner organization which was co-founded by Wilson. Upon taking the stage, Wilson asked the audience to stand and applaud Robinson for his perseverance and accomplishments.  He then went on to deliver an address highlighting this year's theme "Blueprint for Change: From Ideas to Collective Impact."
The message of supporting young Chicagoans continued to resonate throughout the luncheon as four Innovators were recognized for taking groundbreaking steps to improve their communities using various platforms including economic development, the arts, philanthropy and community activism.
Todd Belcore is currently is the Executive Director and Co-Founder of Social Change where he facilitates community trainings and advises those seeking to build or accelerate their local and national policy advocacy efforts.
Jahmal Cole's social initiative entitled "My Block, My Hood, My City," takes teenagers from underserved Chicago communities on city-wide explorations.
Jessica Disu founded the Chicago International Youth Peace Movement and co-founded The Peace Exchange, a community-based, educationally focused and young adult-led effort to understand violence and foster peace.
Jerald Gary is the President and CIO of Community Capital Investment Partners and Chairman of the Chicago Regal Foundation.  He led the effort to rescue the historic Chicago Regal Theater from bankruptcy and his vision is to create much-needed development in the South Shore community and jumpstart the neighborhood's economy.
As the Chicago Urban League nears its centennial, Runner emphasized the importance of all sectors of the community coming to create hope and opportunity for Chicago's youth.
"We must collectively invest with a renewed sense of urgency to advance the social and economic prospects of our youth," added Runner. "Why? Because being a young Black person in Chicago should not be a risk factor." To view President and CEO, Shari Runner's entire speech, visit https://youtu.be/n2tKCj2d3Iw.
For more information about the Chicago Urban League, visit www.thechicagourbanleague.org.
###